Sanctify my Heart A Scriptural Novena to the Holy Spirit [$4.00]

by Christine Haapala, Author of the Best Selling Children's Scriptural Rosary
Speak Lord, I am Listening
Illustrations by James Reid
48 pages; 5" by 7"

Suffering has redemptive value when we recognize God's mighty Hand in the events and offer our day to Him. Accepting God's will in all suffering is a sacrificial prayer by sharing in the sacrifice at Calvary. Christine Haapala's tenth Scriptural prayer book encourages us to allow the Holy Spirit, the Sanctifier, to shape and mold our hearts into an imitation of the Sacred Heart of Jesus and the Immaculate Heart of Mary.

Through reflective and meditative selections from Sacred Scripture, this daily journey is a call to conversion when we encounter the Theological Virtues [Faith, Hope, Love], the Gifts of the Holy Spirit [Fear of the Lord, Knowledge, Piety, Counsel, Fortitude, Wisdom and Understanding], and the Fruit of the Holy Spirit [Charity, Joy, Peace, Patience, Faithfulness, Goodness, Generosity, Gentleness, Kindness, Modesty, Self-Control, and Chastity]. Quantity discounts of 40 or 60% available.

NEW!!! Brochure on Confirmation Retreat Planning Kit
Confirmation Kit [$50.00]
Includes 5 copies of The Suffering Servant's Courage and
5 Copies of Sanctify my Heart and
200 free bookmarks - your choice
($99.00 when products sold separately)
Kindle Version. For more information about the Kindle Lending Library or to purchase Sanctify my Heart in Kindle Format, Order Now.
---
This is Christine Haapala's tenth Scriptural prayer book. In her Author's Note, she "hopes and prays that through these words, you emerge from any dark valley of suffering and solitude you find yourself in [and] find solace in the perfection of the Heavenly Father, the hearts of Jesus and Mary."
Fatima Collection [$62.70]
13 Scriptural Prayer Books - save 45%
Includes 8 Scriptural Rosary Books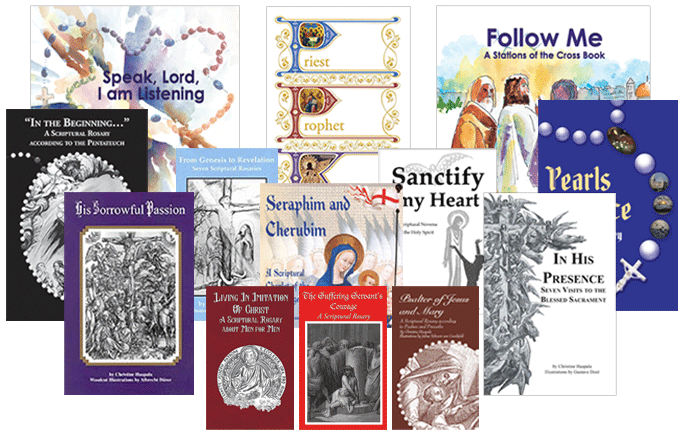 Includes -
Children

Speak, Lord, I am Listening
Follow Me

Rosary

Living in Imitation of Christ
NEW!! in 2022
Priest Prophet King
NEW!! in 2021
Pearls of Peace
The Suffering Servant's Courage
NEW Revised Ed!! in 2023
Psalter of Jesus and Mary
"In the Beginning..."
NEW!! in 2021
From Genesis to Revelation

Eucharistic Adoration
Chaplets

His Sorrowful Passion
Seraphim and Cherubim

Novena